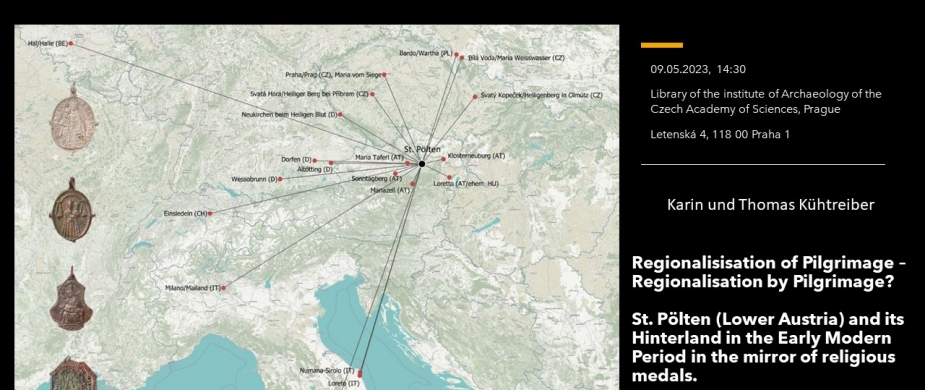 přednáška K. a T. Kühtreiber, 9. 5. 2023
Archeologický ústav AV ČR, Praha, si Vás dovoluje pozvat na přednášku Karin a Thomase Kühtreiberových, Regionalisisation of Pilgrimage – Regionalisation by Pilgrimage? St. Pölten (Lower Austria) and its Hinterland in the Early Modern Period in the mirror of religious medals, která se uskuteční 9. května 2023 od 14.30 v knihovně Archeologického ústavu AV ČR v Letenské 4.
One of the master narratives of historical pilgrimage research is that pilgrimage, which was strongly promoted in the course of the Counter-Reformation, was deliberately directed towards regional places of worship. The main reasons given for this development were territorialisation and better control of the subjects, as well as the promotion of places of grace in their own territorial domain. The lecture focuses on the central region of Lower Austria for a critical examination of this view: on the basis of the religious medals from the city cemetery of St. Pölten, which was abandoned in 1779, a view is taken from the city to the places of pilgrimage that can be grasped on the basis of the archaeological finds. Furthermore, the question of social institutions (orders, confraternities), which can be identified in the entire spectrum of medals, will be investigated. The focus on the region and the city of St. Pölten is from the perspective of the pilgrimage sites of Maria Taferl and Maria Langegg, both pilgrimage destinations that could be reached from St. Pölten in one to two days' walking time and which were demonstrably visited by processions from St. Pölten. The sources for this study are mainly account books. The double perspective not only reveals gaps in the tradition but also raises the question of how "region" can be captured as a category of analysis from the perspective of the respective sources and actors.
Mag. Dr. Karin Kühtreiber, Vienna
Studies in Prehistory, Early History and History at the University of Vienna, doctorate on the excavation results of the High Medieval Dunkelstein Castle (Lower Austria). Since then, a freelance scholar with research interests in castle archaeology, early medieval settlements and medieval-early modern burial cultures.
Mag. Dr. Thomas Kühtreiber, Krems an der Donau
Studies in Prehistory and Early History, History, Ethnography and Earth Sciences at the University of Vienna, doctorate on the excavation results at the Old University in Vienna. Since 1997 research fellow at the Institute for Medieval and Early Modern Material Culture (until 2012, Austrian Academy of Sciences, since then, University of Salzburg). Research focuses on settlement and landscape archaeology, castle and farmhouse studies, medieval treasure finds and historical pilgrimage research.