Castellologica Bohemica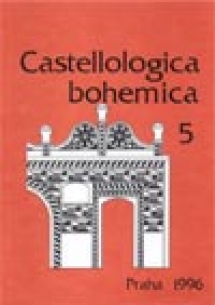 Collected papers edited in collaboration with number of other partners at intervals of approximately 18 months. The journal was flunder in 1989 and is devoted to the investigation and analysis of Mediaeval and Postmedieaval fortified and encastelled structures, mainly castles, fortresses, fortified churches and town fortifications. To date twelve volumes have been published.
From the fourteenth volume, the journal will be published by the Department of Archaeology, University of West Bohemia in Pilsen: www.kar.zcu.cz/castellologica.php
Details
Castrum Pragense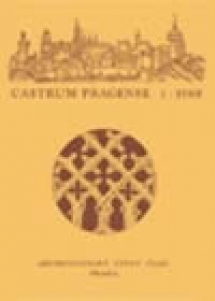 A series of publications published by the Archeological Institute of the Academy of Science of the Czech Republic in Prague dedicated to the later history of Prague castle. Priority is given to texts from the disciplines of archeology, art history, architecture, history and archive keeping.
Details
Excavations in Bohemia
Excavations in Bohemia (formerly Bulletin of the Rescue Department, hence – in Czech – BZO, an abbreviation which is still in use). The publication comprises short reports about archeological excavations and finds in Bohemia and has appeared at annual or bi-ennial intervals since 1963. The contents summarizes data which reached the Institute of Archeology during the relevant period. From volume 1988/89 (published in 1992) it has been an automatically edited extract from the archeological database of Bohemia, which is also, to a certain extent, supplemented by illustrations and site plans. Retrospective regional lists of data (for example the Strakonice region 1994-98 in the volume 1998, published 2000 ), are published within the framework of the BZO and ,on occasion, bodies of data from completed fieldwork projects (for example the surface survey of the Vinořského stream basin from 1986-90 in volume 1996-97, published 1998). Most of the older volumes can be bought in the Institute of Archeology in Prague.
Details
Mediaevalia archaeologica
An occasionally published volume, concentrated on the archaeology of Middle Ages. Studies and monographs produces in cooperation with other Central European institutions.
Details
Památky archeologické – Supplements
Supplementa is a non-periodic series issued by the editorial office of the journal Památky archeologické. In 1995-2005 the international almanac Ruralia I-V had been published within the framework of this series.
Details
Ruralia
The Jean-Marie Pesez Conferences on Medieval Rural Archaeology
The International Association for the Archaeology of Medieval Villages and the Rural Milieu. A presentation of current problems in rural archaeology from a range of participating countries, strengthening the exchange of knowledge in, and the multifaceted development of, archaeologically comparable studies, and making archaeological results available to other scientific disciplines.
*
RURALIA I.-V. were published by the Institute of Archaeology of the Czech Academy of Sciences, v. v. i., Letenská 4, CZ 118 01, Prague, Czech Republic.
Details